Tom Myott captures the action and vitality of each subject. The canvas comes alive with a myriad of lush, vibrant colors. Loose, animated strokes are the genesis of his work. His passion for painting, exploring the limitations of acrylic mediums and techniques is evident in his work. Enjoy browsing this site and finding the painting that speaks to you. Click here now
"WOW! I can't say enough about your art Tom!! You paintings are so bright and energetic. Having your paintings just liven up our home. You capture a variety of scenes in ways that feels like they are going to come to life. Its so refreshing! Thank you!!"

Sheila - Saratoga Springs, NY
"Just wanted to say "thank you" again... your art is beautiful, and your passion inspiring. Michele and I so enjoyed our evening last night, seeing your work, and warm and friendly conversation. I picked up my painting. It makes me smile every time I walk by it in my living room. As Pablo Picasso said, "Art washes away from the soul the dust of everyday life." So true... Hope you and your family have a wonderful summer!"

Amy - Saratoga Springs, NY
"Our walls come alive as soon as we hang a Myott. Tom creates incredible art that is colorful and exciting. His work is always the topic of conversation whenever we have guests over. We can't wait to see his new work each year."
J. - Queensbury, NY
Tom Myott captures a subject with a raw and colorful mark making. The paintings come alive. Toms' art brings a vibrance to the canvas in way that demands attention yet pays an honest tribute to the subject matter. The simple elements of circles, dots, and dashes build upon each other and provide a refreshing heartbeat to his paintings. Amazing works of art that you not only see the action...you can feel it.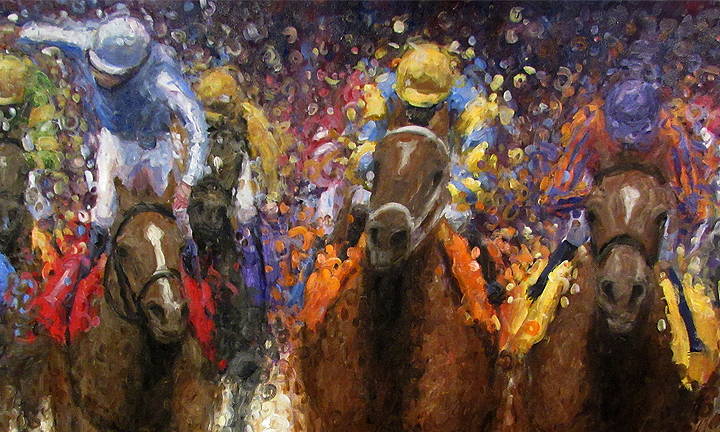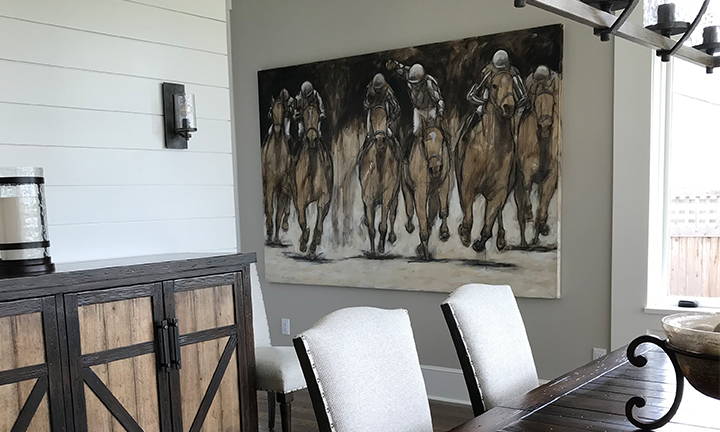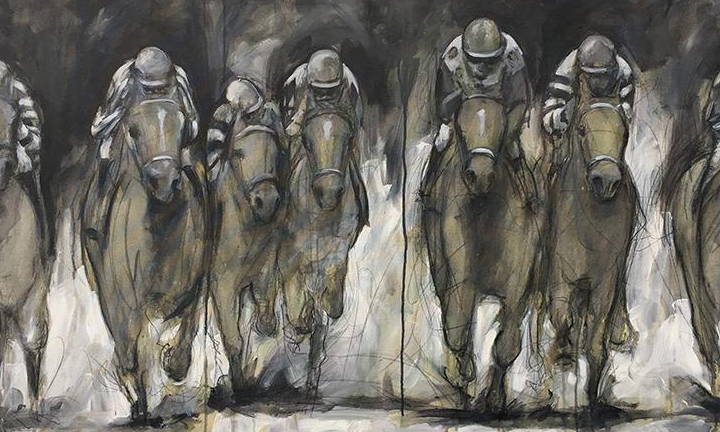 Thoroughbred racing has been the primary subject of his painting. His large racing images have become the coveted artwork of numerous private collections including a commission of the 2011 Belmont Stakes winner, "Ruler On Ice". Tom was also featured in "Saratoga Living" in 2016 and has been on the cover of the "Saratoga Spirit", "Saratoga Living" and "Saratoga Social" magazines as well as voted Saratoga's favorite artist. Silverwood Gallery in Saratoga, as well as his own gallery in Glens Falls, represents his work.
A natural attraction to thoroughbred racing. Saratoga Springs' rich history in horse racing give Tom the unique access to bring the excitement into your home or gallery. Inquire about commissioning Tom to create a painting that will undoubtedly fit seamlessly with your decor. Visit the "Commissions" page for testimonials and how to get started your own Myott today.
SARATOGA
Silverwood Home & Gallery
Saratoga Olive Oil
GLENS FALLS
The Shirt Factory
LAKE PLACID
Saratoga Olive Oil